The school calendar has been updated for the 2021/22 school year.

This evening, Stryker Football is hosting a 5 on 5 Passing Scrimmage at The Complex. Scrimmage starts at 6:00 and goes to 8:00. Our high school varsity team will be competing against teams from Waldron and Camden Michigan. Come out and show your support for Panther Football. There is no charge. Fangs Out!

Here's an opportunity for you to help out our Panthers! Order a pizza between 4:00 pm and 8:00 pm and Clubhouse will donate 15% to Stryker Football. Fangs Out!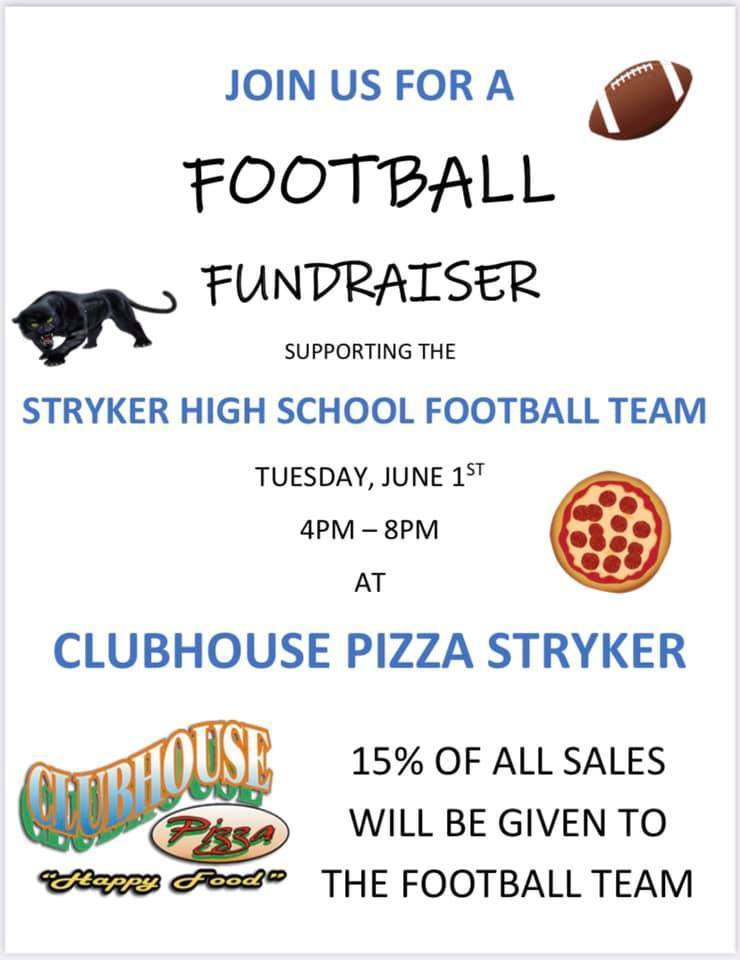 Permission slips are due tomorrow! If you need the document again, here is the link:
https://5il.co/sb0r

Remember.... the mini camp for Stryker Junior High football has been postponed. It was originally scheduled for June 1st and 2nd... Tuesday and Wednesday of this week. Keep an eye on this page and other social media sites for updates.

**Styker Panther Fans** Our Athletic Booster Club is holding their 2nd Annual Raffle. However, unlike last year, it won't be an in-person event due to Covid restrictions. The event will be broadcasted on Facebook Live. - The drawing will be Saturday, May 8, 2021 - Exact time will be announced - No need to be logged on or viewing the live to win - No need to even have Facebook to purchase and win - $30.00 per ticket for a chance to WIN the following... - 1st place $1,000 - 2nd place $500 - PLUS...10 drawings of $100 a piece All proceeds go the the Stryker Athletic Boosters!! Let's buy up these tickets and support our student athletes!!!! Please contact, Head Football Coach Kent Holsopple to purchase your tickets. Thanks for supporting Stryker Panther Athletics!!
stryker
Test stryker

Look for the new Stryker Local Schools website to roll out soon! Be sure and get signed up for the new alert system to let you know if school is delayed or cancelled, and keep you updated on all the latest events.

Montpelier Archery Invitational

PARENT/STUDENT ACADEMIC & CAREER COUNSELING (PSACC) (Formerly known as Parent Teacher Conferences) Click on the appropriate school for your student(s) to set up conference times. All parent conferences this year will be by phone. Please be sure to provide the phone number you want your teacher to call. Elementary School Jr High / High School